Azerbaijan Hazelnut Industry
1. Azerbaijan Hazelnut Production
Due to its favorable climate conditions suitable for hazelnut growing, Azerbaijan is one of the largest hazelnuts producing countries in the world. Hazelnuts are among the most profitable agricultural products of the country. There are several types of hazelnuts, like Atababa (unique taste with 68.22% oil content), Ashrafli, Ghalib, Ganja, Khachmaz (large kernel size with 50% oil content), Sachagly, Topgara and Yagly, which are cultivated in Azerbaijan. Atababa national variety is widely grown in Azerbaijan, its share in the country's total harvest is around 75%. Due to its high resistant nature to pests, and rich flavor and light color characteristics, Atababa is often preferred by the buyers.
Hazelnuts are especially grown in the northwestern regions of Azerbaijan – Balakan, Zagatala (offers around 70-75% of the total production), Gakh, Gabala, Oghuz and Shaki, and in north regions, such as Khachmaz, and Shabran. Hazelnuts produced in Khachmaz region are mainly exported to Russia, and those produced in Gabala, Oghuz, Gakh, Zagatala and Balakan regions are supplied to many countries in the world.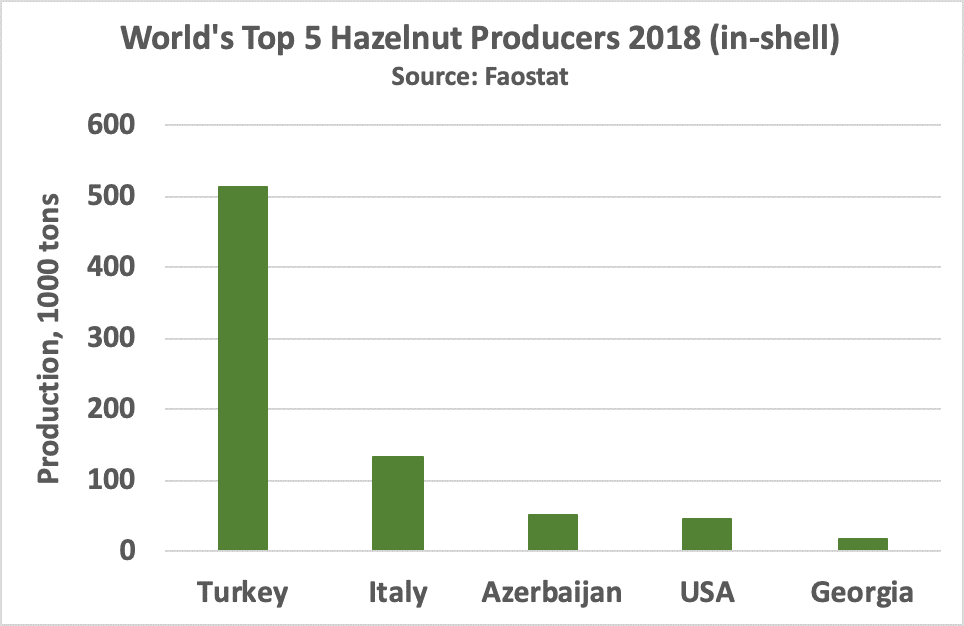 In 2018, Azerbaijan produced 52 thousand tons of in-shell hazelnut, and managed to keep its third place in the world with 6% share after Turkey (58%) and Italy (15%). As the largest hazelnut producer, Turkey produced 515 thousand tons in the same time period. The total share Top 5 hazelnut producers was 86%, considering the USA (5%) and Georgia (2%).
Since 2015, the highest yield among the Top 5 hazelnut producers has been observed in the USA, despite the fact that, it was quite volatile. According to Faostat, except 2017 the USA hazelnut yield has been more than 2 tons/ha since 2015. Although, in 2015, the hazelnut yield was 1.5 tons/ha in Turkey, it has decreased to less than 1 tons/ha recently, showing the lowest yield among the Top 5 producers. Georgia enjoyed quite stable hazelnut yield (around 1.8 tons/ha) over the years 2015-2018. There was an increasing trend in the hazelnut yield in both Azerbaijan and Italy in the same time period. Italian hazelnut yield was 1.4 tons/ha in 2015, while it increased and settled in 1.7 tons/ha in 2018. In 2015, Azerbaijan hazelnut yield was the lowest (1.2 tons/ha) among Top 5 producers. However, an increasing trend has been observed recently.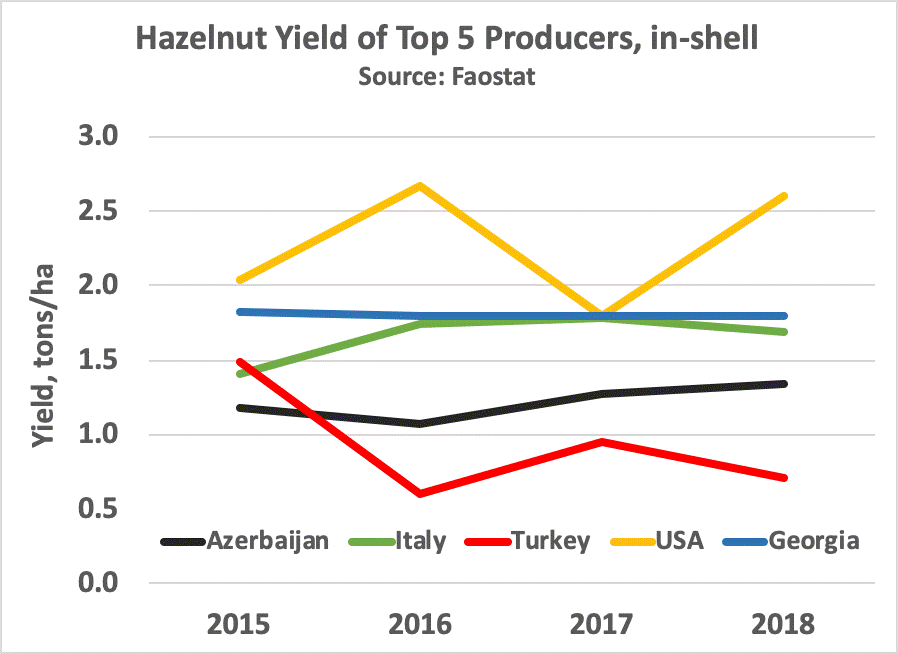 Among Top 5 hazelnut producers, the largest area dedicated to the hazelnut growing is in Turkey. In 2018, the total harvested area in Turkey was 728 thousand ha, that was almost 10 times more than the harvested area in Italy, 79 thousand ha. Except Georgia, which decreased its hazelnut harvested area (from 19 thousand ha in 2015 to 10 thousand ha in 2018), the other four countries try to expand their areas. Over the years, the USA increased its harvested areas from 14 thousand ha in 2015 to 18 thousand ha. Azerbaijan expanded its total hazelnut harvested areas from 27 thousand ha in 2015 to 39 thousand ha in 2018.
Azerbaijani government supports the development in culture of production and efficiency, application of new technologies in production and processing, and rational use of natural resources, while raising awareness of the hazelnut production.
2. Azerbaijan Hazelnut Export
During 2015-2016, Azerbaijan was the world's fourth largest shelled hazelnut exporter after Turkey, Georgia and Italy. In 2017, Azerbaijan ranked third in the world hazelnut export market, and still keeps this spot, after Turkey and Italy.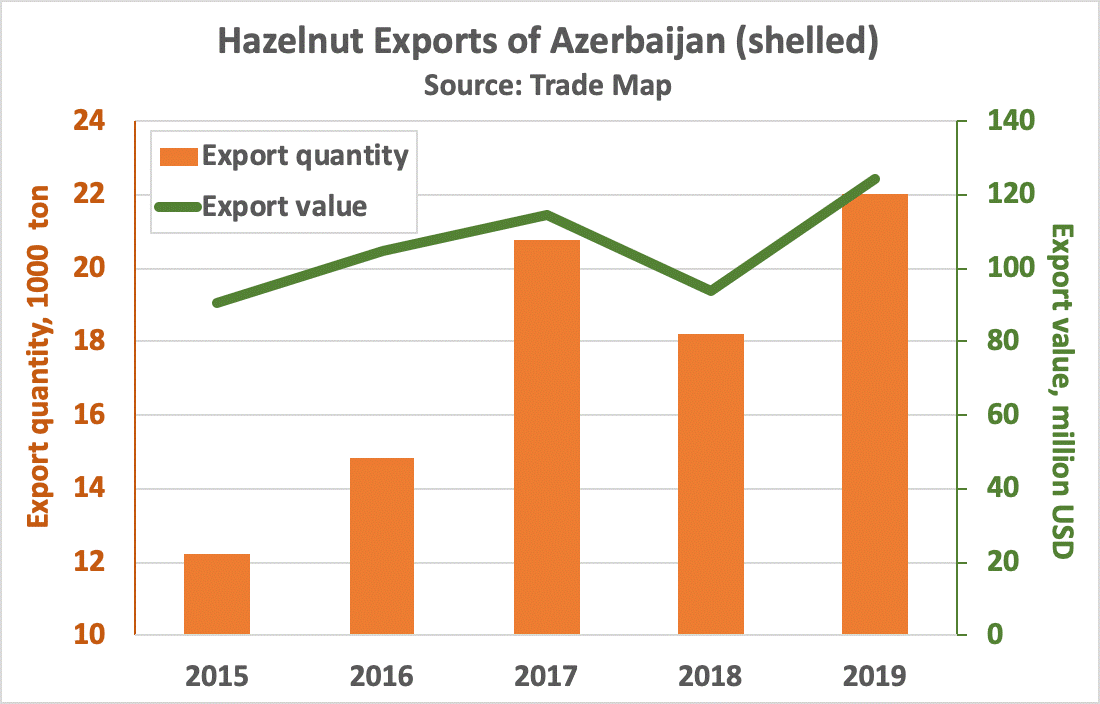 Azerbaijan mainly exports shelled hazelnut (HS: 080222), and except the year 2018, there was a positive trend in the country's exports. Its export quantity increased from 12 thousand tons in 2015 to around 21 thousand tons in 2017. Although the export quantity decreased to slightly more than 18 thousand tons in 2018, it again increased by 21% and reached to 22 thousand tons in 2019. The export value of Azerbaijani shelled hazelnut followed the same trend. It increased from USD 90 million in 2015 to USD 115 million in 2017. In 2018, the export value of shelled hazelnut was only USD 94 million, which later increased by 32%, and was USD 124 million last year.
The reason of a fall in Azerbaijani hazelnut exports in 2018 was a sharp depreciation of the Turkish Lira against the US Dollar. Weakening of the Turkish currency allowed the Turkish exporters to offer their products for much lower prices to the European buyers, and decreased the competitiveness of the Azerbaijani hazelnut in the world market. As a result, despite the increase in the Azerbaijani hazelnut production in 2018, its export volume fell down by 12.2% in 2018 compared to 2017, whereas the Turkish hazelnut export volume gained 1.0% growth in the same period. During in the same time period, Azerbaijan lost 18.3% of its hazelnut export value. Due to its currency devaluation, Turkish hazelnut export value also decreased by 12.6% in 2018 compared to the year 2017.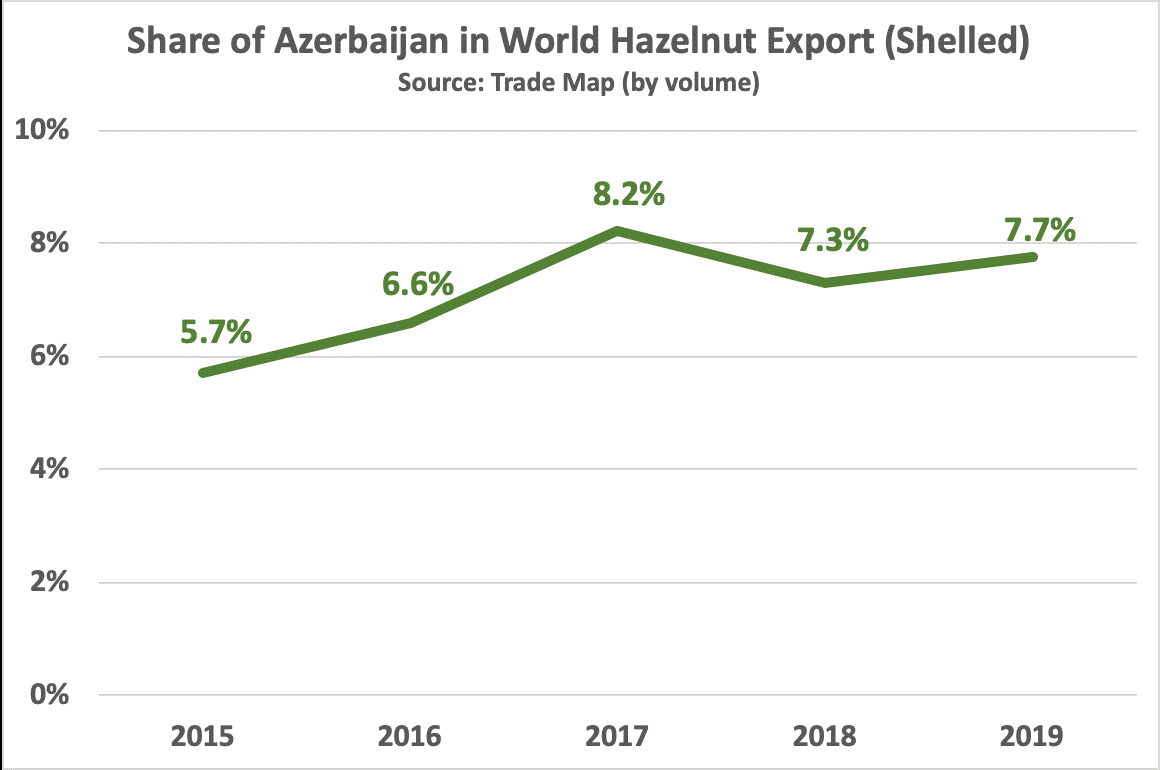 As mentioned above, Azerbaijan was the world's fourth-largest hazelnut exporter during 2015-2016. The share of Azerbaijan in the global hazelnut market was only 5.7% and 6.6%, respectively, in 2015 and 2016. In 2017, Azerbaijan upgraded its hazelnut industry and became the third largest hazelnut exporter with 8.2% market share globally. Due to the weakened competitiveness in the world market, as a result of devaluation in the currency of Turkey – the world biggest hazelnut producer and exporter, the share of Azerbaijan decreased to 7.3% in 2018. The country managed to overcome the situation and its share increased to 7.7% in 2019. Overall, the share of Azerbaijan increased by 2 percentage point in the world during 2015-2019.
In 2019, Azerbaijan exported shelled hazelnuts to 18 countries, whereas Top 10 export destinations of shelled hazelnut were Russia, Italy, Germany, Georgia, Poland, Lithuania, Belarus, France, Ukraine and Switzerland. In the same year, Azerbaijan exported 22 thousand tons of shelled hazelnuts worth USD 124 million. Russia, Italy and Germany were Top 3 hazelnut export partners of Azerbaijan; together their share was 90% of the total hazelnut exports.
Russia is the largest importer of Azerbaijani hazelnut. In 2019, Russia imported more than 14 thousand tons of shelled hazelnut from the world, out of this, over 11 thousand tons, which was slightly more than 77%, was supplied by Azerbaijan. The rest of the shelled hazelnut was imported from Turkey (16%), Georgia (5%) and Belarus (2%) to Russia in 2019. Russia is also main hazelnut buyer for Azerbaijan, since half of the shelled hazelnut exports of Azerbaijan was supplied only to Russia in 2019.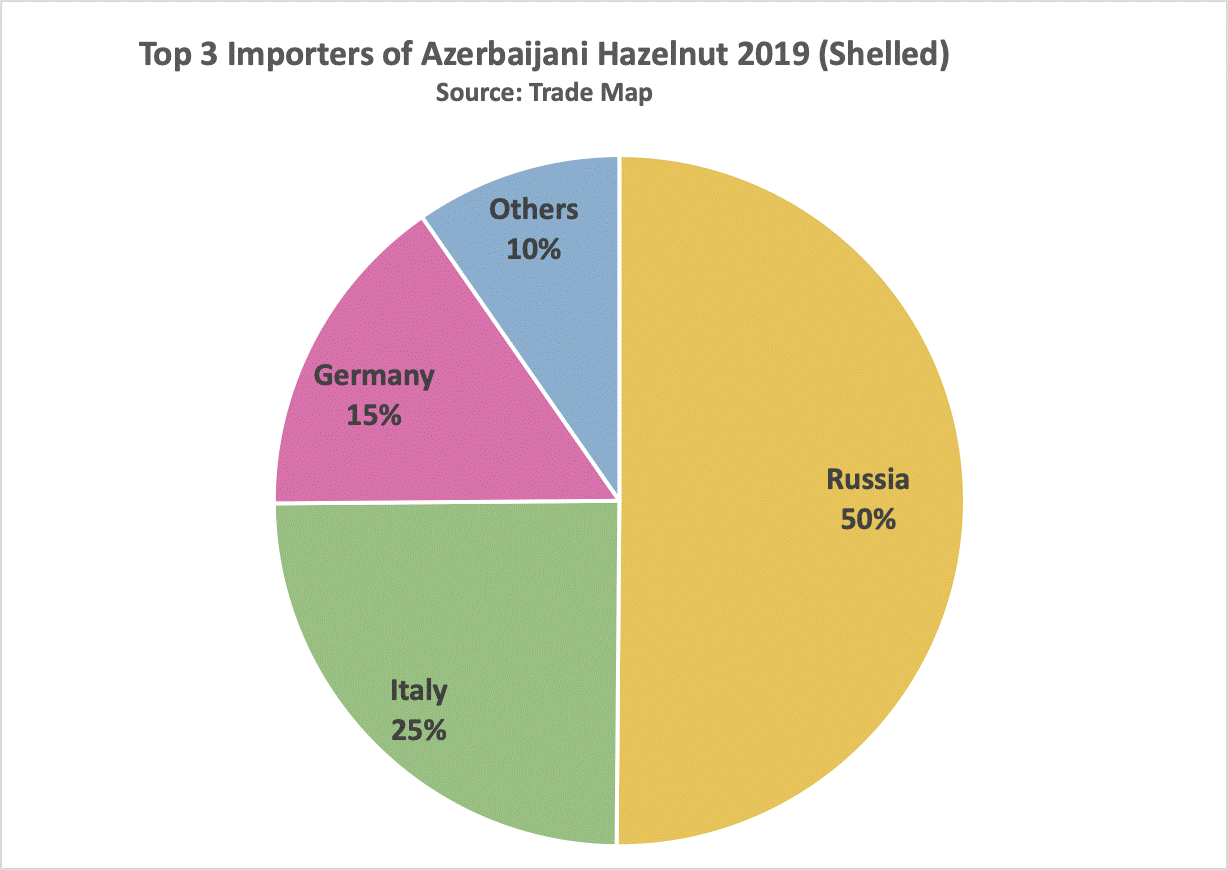 The European countries, especially Italy and Germany, are also main trade partners of Azerbaijan in terms of hazelnut export. In 2019, Italy bought almost 60 thousand tons of shelled hazelnut from the world market, out of this 38 thousand tons was supplied by Turkey (64%), 12 thousand tons by Chile (20%), almost 6 thousand tons by Azerbaijan (10%) and over 2 thousand tons by Georgia (4%). With 25% share, Italy ranked second in the shelled hazelnut exports of Azerbaijan in the same year.
Germany imported more than 65 thousand tons of shelled hazelnut from the world in 2019, out of this over 46 thousand tons was supplied by Turkey (71%), almost 12 thousand tons by Italy (18%), 4 thousand tons by Azerbaijan (6%), and almost 2 thousand tons by Georgia (3%). In terms of export volume, in 2019, Germany ranked third in the shelled hazelnut exports of Azerbaijan with 15% market share. From the other European countries, Georgia, Poland, Lithuania, Belarus, France, Ukraine and Switzerland also entered into Top 10 export destinations of Azerbaijani hazelnut in 2019.
According to the local sources, Azerbaijani hazelnuts have potential to be certified as organic products. Given the fact that demand for organic food products increases, especially in Western Europe, organic label will add extra value and farmers may charge premium prices for their products.
Current Situation in Hazelnut Sector of Azerbaijan
As the hazelnut industry is one of the most profitable agricultural sectors, it is in the interest of the Azerbaijani government to support the farmers to expand the hazelnut planted areas. In order to develop the hazelnut production in Azerbaijan, the Ministry of Agriculture of Azerbaijan together with the UN Food and Agriculture Organization (FAO) launched a project at the beginning of 2020. The project will be implemented between 2020-2023 with a budget of USD 1.3 million. The main idea is to increase the yield of small and medium farmers, ensure sustainable development of the hazelnut industry, provide food and nutrition security, create new jobs/self-employment opportunities, and reduce poverty in rural areas. The hazelnut production is expected to be increased by the introduction of new technologies, application of advanced agricultural knowledge and skills by small and medium farmers to increase the hazelnut quality, and development of warehousing installations. This project is not the first initiative to improve the hazelnut sector in Azerbaijan, since in November 2016, FAO and the government of Azerbaijan signed a partnership program for 2016-2020.
The Azerbaijani government also understands the benefits of the regional cooperation in the hazelnut market. Therefore, in August 2019, Azerbaijan, Georgia and Turkey signed a declaration on strategic cooperate in order to improve the quality and increase the production of hazelnut.
The current Covid-19 pandemic situation affected the strategies of the hazelnut exporters.
Due to the lockdown panic, Azerbaijani hazelnut exporters significantly increased their exports to Russia and EU in March 2020. The importers benefited this situation and offered lower prices, which affected the revenues of the Azerbaijani exporters in the first quarter of 2020.
Source
COPYRIGHT © 2020 Nutsoil LLC
No part of this presentation may be reproduced, stored in retrieval system or distributed in any form or by any means, electronic, photo-copying, recording or otherwise without the prior written permission from Nutsoil LLC.